CHINESE SZECHUAN STYLE
HOT & SPICY UNSMOKED PORK SAUSAGE
(Peppercorn Flavor)
 PRODUCTS FEATURES

* Made with 100% fresh & diced Heritage pork From the same supplier of Whole Foods, the same quality.
No antibiotics or added hormones ever.
Raised on family farms with 100% vegetarian feed.
* Made with Natural Ingredients, no nitrates and additives added.
 * USDA approved.
Inspected and passed by department agriculture Est 47321.Product of USA.
PRODUCTS INFORMATION

Ingredients: Pork, Sea Salt, Spirits (Spirits Distilled from Sorghum, Rice, Glutinous Rice, Wheat, Corn), Chili Powder, Sugar, Peppercorn, Hog Casings.
Contains Wheat
Net WT. :8OZ / 16OZ
Shelf life: Keep frozen for 6 months
Country of origin: USA  
COOKING INSTRUCTIONS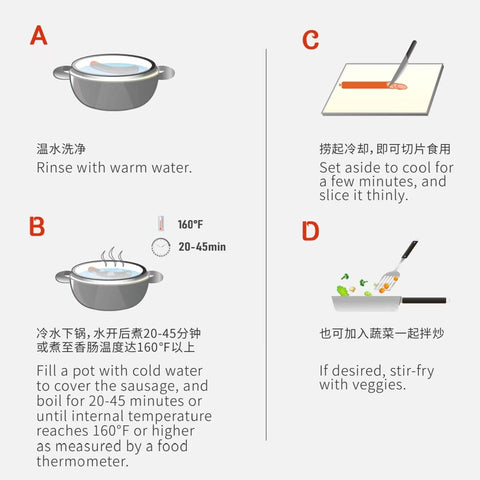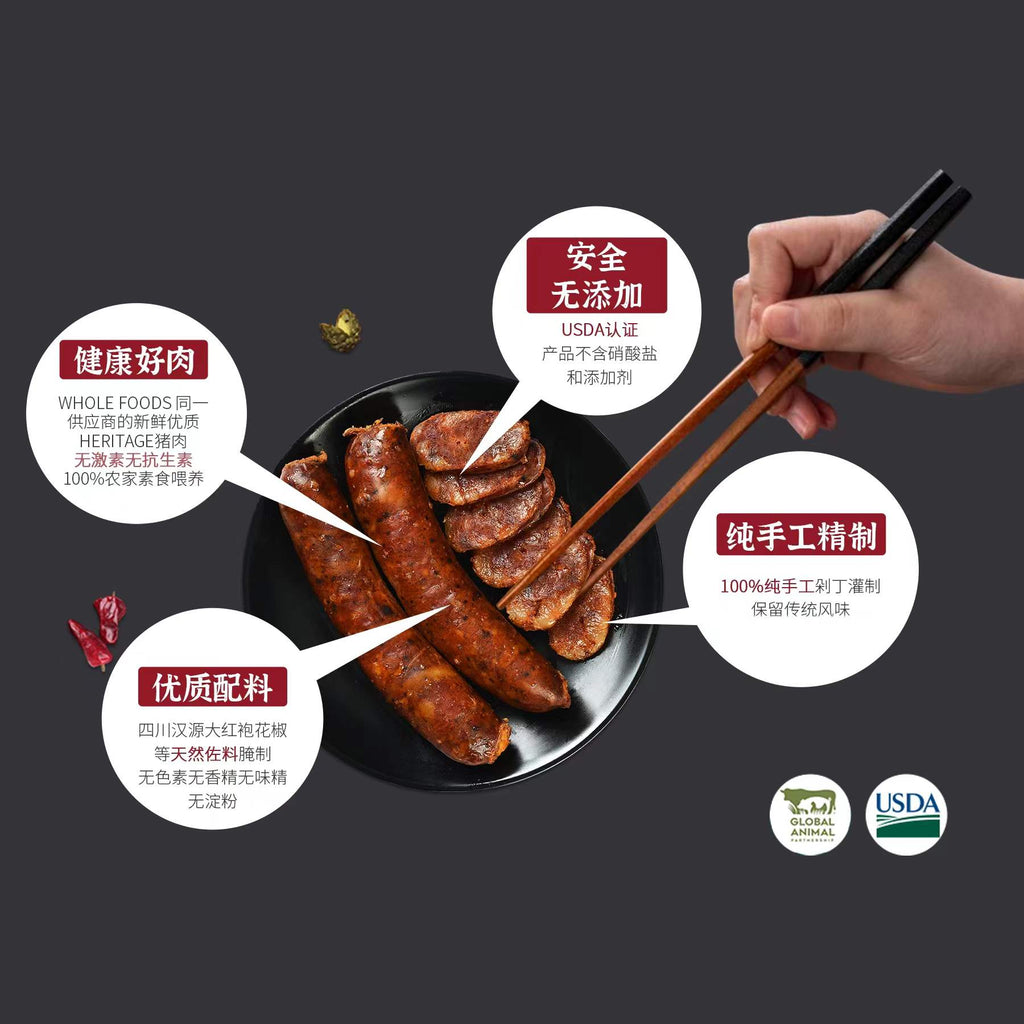 产品特色
* 100%甄选自Whole Foods同一供应商的优质新鲜Heritage猪肉,无激素无抗生素100%农家素食喂养,符合GLOBAL ANIMAL PARTNERSHIP的高标准评级。
* 100%精选四川汉源大红袍花椒等天然佐料腌制,不含硝酸盐、添加剂和人工香料。
* 纯手工剁丁,地道四川风味。
* USDA认证,安全卫生有保障。
美味档案
【原料】猪肉,海盐,白酒(由高粱,大米,糯米,小麦,玉米酿制),辣椒粉,糖,花椒,猪肠衣,包含大麦。
【规格】8OZ / 16OZ
【肥瘦比】3:7
【保质期】180天
【包装方式】抽真空包装
【生产日期】见袋身打印处
【原产地】美国
【储存条件】产品无添加防腐剂,建议直接冷冻保存,开袋后尽快食用完毕。